Ljiljana Bulatovich-Medich
ABOUT GENERAL MLADICH
AND WAR IN BOSNIA AND HERZEGOVINA
/documents and notes/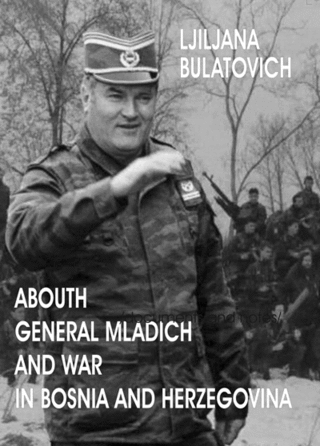 ISBN 978-86-86863-29-4
Dear Reader,
Since publication of my first book GENERAL MLADICH (1996.) dedicated to the roots of the war in the Balkans and to the General's role in rescuing Serbian people from ustasha and newly appeared militant Islam aggressors that were revampired again, many of those who do not understand our language (Serbian, remark of the translator), and would like to know the truth – have asked me why don't I publish my manuscripts on the General in English, too.
Unfortunately, due to my financial circumstances I was unable to meet them halfway, and there was no support to be found anywhere.
However, thanks to my friends I have managed (in 1998) to print the translation of the GENERAL MLADICH in Russian and to promote the book spectacularly in Moscow.
Then, without any explanation whatsoever, a big Italian publisher has withdrawn from publishing this book, although it was translated into Italian. An attempt to print this book in Chicago had failed, although it was translated into English.
After publishing my latest book on the General Ratko Mladich – RAPORT TO THE COMMANDER, certain conditions have been established for me to publish at least a certain number of documents and my texts on the General and on the beginning of the war in Bosnia and Herzegovina in English. I I have used some of the pages from the above mentioned translation of the first book, and my friends have translated both this and the parts of the text written by Momir Bulatovic from the book RAPORT TO THE COMMANDER and Military Records of Ratko Mladich.
I am certain that also this manuscript, with all its imperfections, will facilitate the truth on the reasons for the suffering of Serbian people to come through. Unfortunately, due to financial limits, some valuable items that are included in my books – brilliant speeches, interviews, evaluations and analyses of the General Ratko Mladich are missing from this text!
Ljiljana Bulatovich-Medich
THE CONTENTS:
DEAR READER
ODE TO HONORABLE SERBIAN GENERAL
– MOMIR BULATOVICH
THE BEGINNING OF THE WAR
IN BOSNIA AND HERZEGOVINA
OUR FIRST MEETING
A HEARTBREAKING LOSS
AN INTERVIEW NEAR SHEKOVICHI
AFTER THE FALL OF SARAJEVO
HE FOUGHT A WAR HE WAS NOT ALLOWED TO WIN
– GENERAL DR RADOVAN RADINOVIC
THE EXACT ADDRESS: REPUBLIKA SRPSKA
FIRST AGREEMENT FOR THE DEMILITARIZACION
OF SREBRENICA
STATEMENS MADE BY UNPROFOR COMMANDERS TO SRNA
LOW-FLYING AIRCRAFT OVER THE VANCE-OWEN MAP
/GENERAL MLADICH'S SPEECH IN THE PARLIAMENT/
A CRIME STAGED AT THE MARKALE MERKETPLACE
IN SARAJEVO
WE ARE DEFENDING OUR PRIDE AND HONOR,
THE HOLY CRUCIFIX AND FREEDOM
– SPEECH GENERAL RATKOMLADICH
SYMBOL OF SERBIAN RESISTANCE
THE BATLE OVER MLADICH – MILICH FROM MACVA
INTERVIEW GENERAL MLADICH'S AFTER
THE SREBRENICA OPERATION, JULY 1995
GENERAL JANVIER BROKE THE AGREEMENT
MILITARY RECORDS OF RATKO MLADICH
http://www.poetabg.com/prodavnica/plaincart/index.php?c=47&p=73
Admin




Број порука

: 193


Registration date :

15.11.2008




---
Permissions in this forum:
Не можете
одговорити на теме у овом форуму